Today here at Young Adult Fiction and Whiskey Sours we are participating in Waiting on Wednesday. WoW is hosted by Breaking the Spine and spotlights upcoming releases we can't wait to read. This WoW comes in two parts that are polar opposites. Hey, we really will read anything that isn't tied down!
Part 1 is a nod to my childhood love of sci-fi.
Level 2
by Lenore Appelhans has been blowing up across book blogs, and I finally got around to looking into it. I then promptly realized I heard Lenore speak this spring and remembered that THIS BOOK SOUNDS AWESOME! Someone please remind me again in January when it comes out that I totally want to read it. :-)
In this gripping exploration of a futuristic afterlife, a teen discovers that death is just the beginning.
Since her untimely death the day before her eighteenth birthday, Felicia Ward has been trapped in Level 2, a stark white afterlife located between our world and the next. Along with her fellow drones, Felicia passes the endless hours reliving memories of her time on Earth and mourning what she's lost—family, friends, and Neil, the boy she loved.
Then a girl in a neighboring chamber is found dead, and nobody but Felicia recalls that she existed in the first place. When Julian—a dangerously charming guy Felicia knew in life—comes to offer Felicia a way out, Felicia learns the truth: If she joins the rebellion to overthrow the Morati, the angel guardians of Level 2, she can be with Neil again.
Suspended between Heaven and Earth, Felicia finds herself at the center of an age-old struggle between good and evil. As memories from her life come back to haunt her, and as the Morati hunt her down, Felicia will discover it's not just her own redemption at stake… but the salvation of all mankind (GoodReads).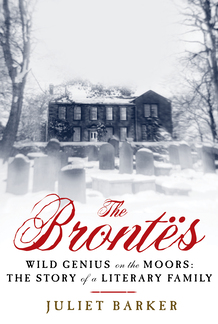 Part 2 goes out to all lovers of the wild Gothic stories of the Bronte sisters! Cheers to classic lit!
I also want to read The Brontes by Juliet Barker. The Brontes is a new edition of Barker's acclaimed 1994 family biography. Thanks to my favorite book website, NPR, for pointing the way to this book! I have always been fascinated by the Bronte sisters, and with a tagline like that, this book sounds like it will not
disappoint
.
"Wild genius on the moors"? YES, PLEASE.