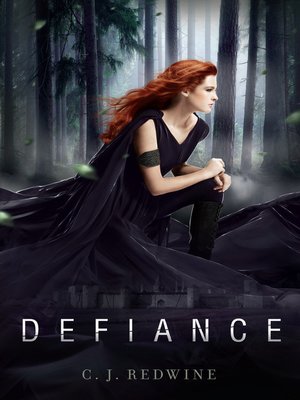 So, logging onto my library website, this came up front page as new, with the following blurb:
Defiance by C. J. Redwine is rich postapocalyptic YA fantasy perfect for fans of Graceling and Tamora Pierce.
While the other girls in the walled city-state of Baalboden learn to sew and dance, Rachel Adams learns to track and hunt. While they bend like reeds to the will of their male Protectors, she uses hers for sparring practice.
When Rachel's father fails to return from a courier mission and is declared dead, the city's brutal Commander assigns Rachel a new Protector: her father's apprentice, Logan--the boy she declared her love to and who turned her down two years before. Left with nothing but fierce belief in her father's survival, Rachel decides to escape and find him herself.
As Rachel and Logan battle their way through the Wasteland, stalked by a monster that can't be killed and an army of assassins out for blood, they discover romance, heartbreak, and a truth that will incite a war decades in the making.
See that? perfect for fans of
Graceling
and Tamora Pierce? Done. Waiting. What are you waiting on this week?
Addendum from Grad Student:
Defiance is the first book in the Courier's Daughter Trilogy Series. The second book Deception comes out this August.

CC: SPOILERS BELOW!! Read at your own risk!! [ I made it tiny to hide it!]
Baalboden has been ravaged. The brutal Commander's whereabouts are unknown. And Rachel, grief stricken over her father's death, needs Logan more than ever. With their ragged group of survivors struggling to forge a future, it's up to Logan to become the leader they need—with Rachel by his side. Under constant threat from rival Carrington's army, who is after the device that controls the Cursed One, the group decides to abandon the ruins of their home and take their chances in the Wasteland.


But soon their problems intensify tenfold: someone—possibly inside their ranks—is sabotaging the survivors, picking them off one by one. The chaos and uncertainty of each day puts unbearable strain on Rachel and Logan, and it isn't long before they feel their love splintering. Even worse, as it becomes clear that the Commander will stop at nothing to destroy them, the band of survivors begins to question whether the price of freedom may be too great—and whether, hunted by their enemies and the murderous traitor in their midst, they can make it out of the Wasteland alive.
In this daring sequel to Defiance, with the world they once loved forever destroyed, Rachel and Logan must decide between a life on the run and standing their ground to fight (GoodReads).